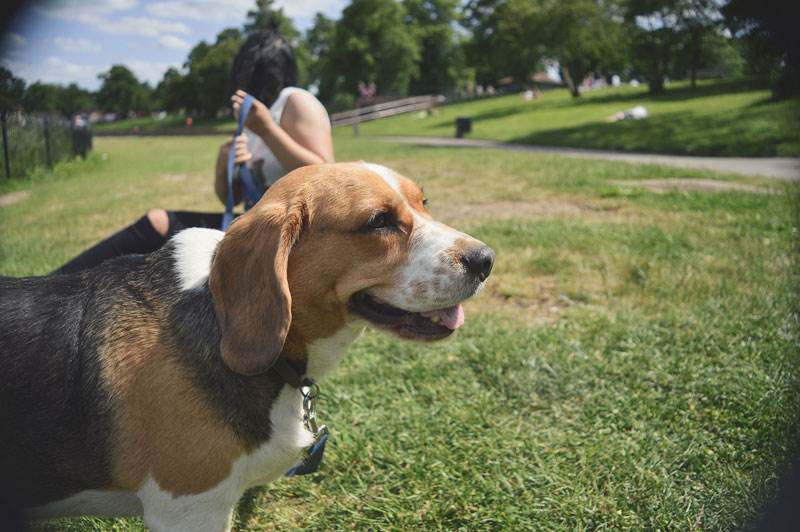 Living in Boston has plenty of upside. You're close to your place of work, there's no shortage of entertainment options, and most everything you need is within a few blocks. If you're a dog owner, however, things can get a bit more complicated. Unless you're in one of the Greater Boston suburbs, you're unlikely to be running around the yard with your fur babies. And since New England curb traffic stops for absolutely nothing, any pupper who likes to run around and explore will find their options limited.
Fortunately, the Hub boasts no shortage of excellent dog parks where you and your pupper can frolic to your hearts' content. With all the great dog parks in Greater Boston, we'd be here all day if we tried to list them all: so here's five of our favorites..
Medford Dog Park
Venture outside of Boston proper, and the Medford Dog Park is a hidden gem down on the river. While it's not one of the flashier parks you'll find in Boston, this charming spot boasts all the amenities that a good dog park needs. Free water and water bowls are provided — though the pumps are inoperable in the winter, so you'll need to handle that yourself in the colder months — and the park's fully fenced in, so your pupper can run free to their heart's content. There are places for dogs of all sizes, so no matter what breed you have, they have a place to run around. And sometimes, that is more valuable than elaborate climbing or tube areas.
South Boston Bark Park
The South Boston Bark Park has a lot going for it, especially in the summer. There are plenty of dogs for your pooch to socialize with. For more introverted doggos, there is a smaller space designated for cannes who prefer to stretch their legs in quiet rather than romp around playing with others. Plus, we two-legged folks get a nice view of the beach.
Peters Park
A South End staple, Peters Park was one of the first major dog parks in the city to be built and approved. So why not visit one of the places that started it all? Peters Park is an enclosed dog park with places for big and small breeds alike. There's plenty for dogs to climb and romp on, and the people you meet are generally responsible and friendly. That would be good in and of itself, but Peters Park goes above and beyond by providing sure to have things for everyone to do. For the rest of the family, there are tennis courts, basketball courts and a baseball field: making Peters Park a great place to bring the whole family to run off some excess energy.
Boston Common
Look, off-leash dog parks are great. But not every pupper is ready for the responsibility: much like their humans, all dogs are different and grow at their own pace.
These dogs still deserve a place to run, play, and generally be a dog. And like the legend it is, Boston Common steps up to accommodate all dogs: whether they need a leash or not. Boston Common allows your fur babies to be off the leash from 6AM to 9AM, and 4 PM to 8PM, where as leashed dogs can enjoy the park during the same times as everybody else.
Plus, you'll be at Boston Common: which means you get to enjoy its rich history, and accommodating hours. For any history buffs (human or dog), Boston Common has plenty of statuary commemorating heroes of the American Revolution, making it a great educational opportunity if you happen to have children along, or just want to immerse yourself in Boston's rich historical roots. And if you and/or our dog are night owls, Boston Common is open until 11PM unlike dedicated dog parks, most of which close at around 7 or 8.
Carleton Court Dog Park
For some older dogs, a long walk on a gravel path might be a bit much for their joints to handle. For some younger and hyperactive dogs, a dirt and grass park will lead to a major need for a bath (and as many hyperactive dog-owners know, tend to lead to bigger messes that make them want to play dead). What's an owner to do?
The Carleton Court Dog Park could be the solution. Largely constructed from the same stuff that tennis courts are made out of, it offers a novel surface for your canine companion, making everything just a little bit easier on senior dogs, letting them frolic, romp, and generally goof around without placing undue stress on their joints. And it also means that your... let's say "enthusiastic" bundle of bouncy fur dog won't come back covered in mud, grass and who knows what else once it's time to call it a day.
It's a Dog-Meet-Dog World
Ultimately, the best dog park in Boston is the one you'll be able to regularly visit. Just like us, dogs are incredibly social, group-based creatures: it does them a world of good to be around other dogs, as well as other humans. For those of us living in apartments, dog parks are an essential part of keeping our canine companions healthy: not just physically, but in every regard.
So don't let anyone tell you that close access to a dog park isn't an important criteria for choosing where to live: we know better. Hopefully, this guide helps you get started on finding the best landing spot for you and your pets: but if you're still not sure, or you're curious about options in other neighborhoods, feel free to contact us: we'll help you find a place that sets everybody's tails wagging.
That said, did we miss your favorite? Have anything to add about the parks featured? Let us know in the comments below!